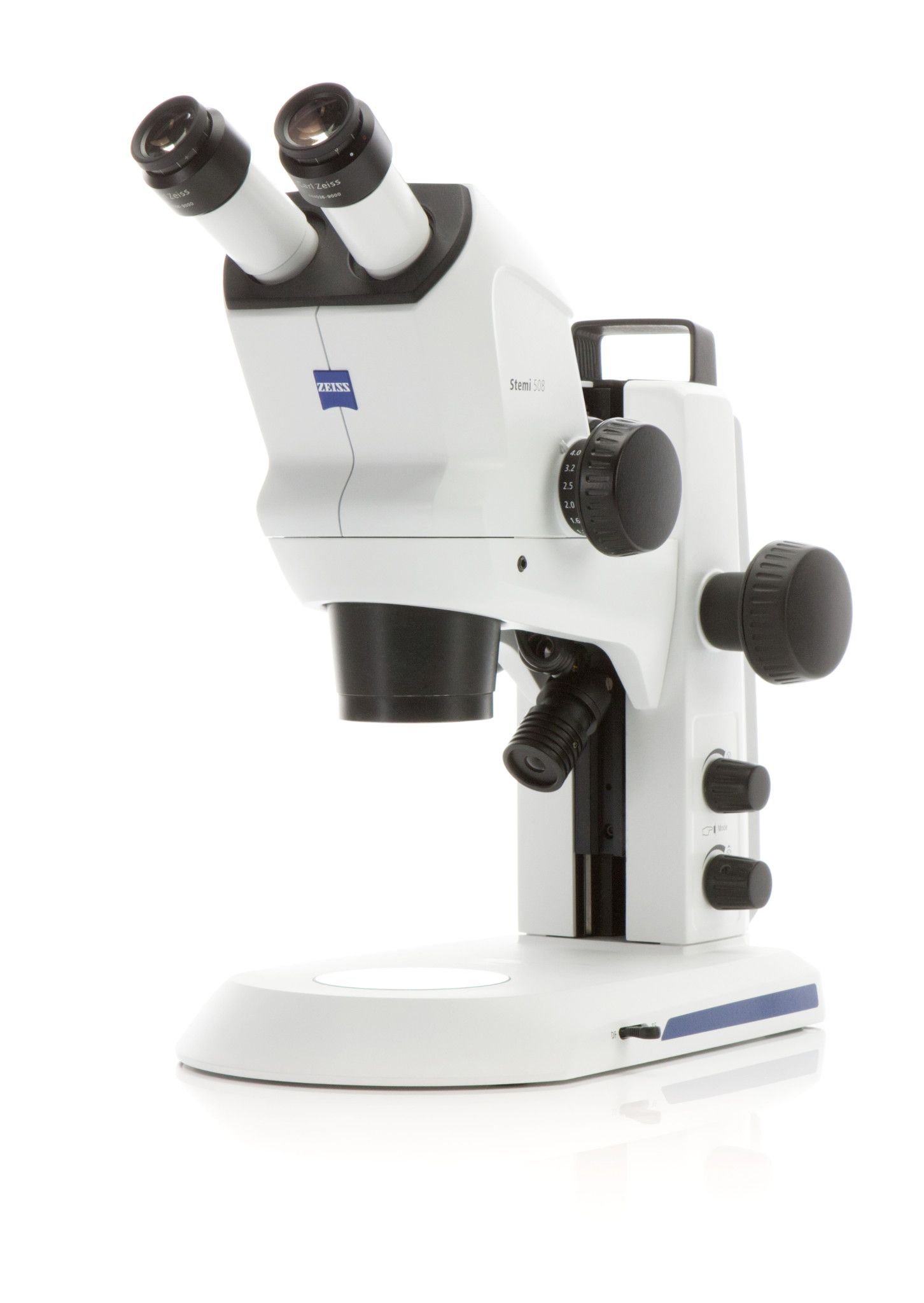 Your Compact Apochromatic Greenough-System
Stemi 508 is a Greenough-principle based stereo-microscope which channels two observer beam paths in one apochromatic lens array. Additionally it can include a third camera viewport with the Trino version. The optical system at the core of the Stemi 508 is engineered to provide top-notch contrast and aberration-free color quality. Cased in a robust, mechanically sturdy mechanism and capable of a field of view that spans up to 36 mm, this stereo-microscope is meant for consistently clear results at minimal expenses in terms of weight and working space required.
8:1-Zoom creates magnifications of up to 50x. And with a modular lens add-on, you can receive a visible angle that more than triples the default field of view with a reach of 122 mm.
The 508's optimized Greennough-System makes a small viewing angle of 35° possible. This means you can use it without shifting out of a natural posture indefinitely.
Observe and document your samples exactly as they are in reality: full of details, focused and free of aberrating color fringes or geometrical distortions. Stemi 508 is your reliable allrounder for laboratory perusal and industrial inspection.
Choose packages to configure your Stemi 508 for your task
Apochromatic optical system heralds excellent color quality
Configurate and combine LED Light modules
Object glass provides large field-of-view
Custom Configuration


Choose stand and mode of illumination. Stemi 508 can be mounted on articulated arms or stands with integrated light source.
It can work with transmission illumination and polarized light.
Either design has a nested light source with power supply directly in the stand, making the Stemi 508 easy to install and move and independed to additional power-units for peripheral light.
Get exactly the device that you want for your job.
Apochromatic Optics
The aberration-free optical core system of the Stemi 508 and an efficient glare suppression produce a pristine, clear and three dimensional image without overlaying color fringes, color-defects or morphed perimeters.
Multiple Light Add-Ons

You can choose a slim stand base which includes both classical bright-field and dark-field illumination, or expand on this design for an adjustable mirror + retroreflector slider that enables diffuse and conical transmissive illumination at adjustable angles.
The contained light system can furtherly power peripheral lights, such as for instance the goose-neck twin LED-Spotlight, or the object-glass-mounted ring light. All peripheral lights are directly connect to the nested power source in the stand and require no additonal power-units, cable-converters or buttons.
Just plug the light into the bottom side of the microscope core.
Large Field of View

Project Objects in a field of view that reaches up to 122 mm. Expand micrometric structures into visible, contrasted details with the extensive 8:1 Zoom.