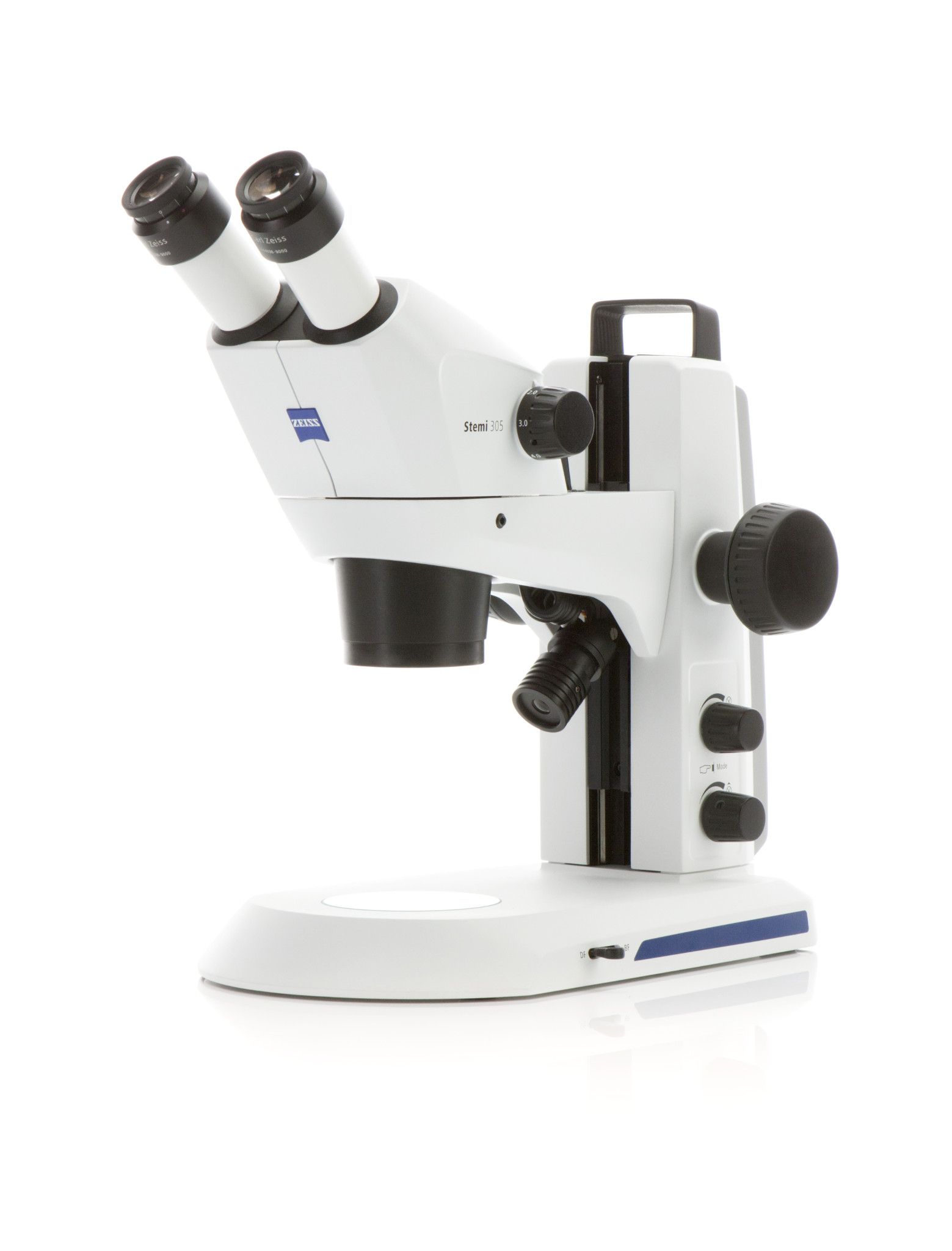 Your compact Stereo-Mikroscope with on-board illumination
The Stereo-Microscope 305 is designed after the Greenough-principle: It directs two observer beam paths through a single objective lens array. This saves weight and makes the entire design more compact than other stereo microscopes.
5:1 Zoom covers all applications, whether you teach Biology in class, analyse samples in a laboratory or control industrial production. Observe real images of your samples: Three dimensional, with great contrast even in unprepared samples.
Profit from a user-friendly miscroscope that is equipped for everything. Long-lived LEDs are used for transmitted and direct illumination and as a ZEISS product, Stemi 305 comes with a whole catalogue of documentation options.
Supports ZEISS Digital Classroom concept
All-In-One-Device


Stemi 305 is shipped ready for use.
Variable modes of illumination and extensive methods for documentation are already accounted for and readily available.
This Greenough-stereo-microscope dovetails every cable, controler unit and light module needed for operation into it's compact design, so that installation consists out of two steps: Placing the device on your desk and plugging it in.
Digital Classroom


Share snapshots or live-videos via HD-Screen or Beamer with your class.
Organize classes, manage your student's assignments and present them your explanations first-hand.
Stemi 305 fully supports the ZEISS Digital Classroom management concept for groups of networked microscopes, cameras, computers and tablet devices.
Documentation


Choose Stemi 305 Trino for advanced documentation options. This version has an added third photography tubus, intended to serve as mounting point for a camera of the ZEISS Axiocam product family.
As Axiocam user, you gain access to the free imaging-software ZEN lite.
Camera and observer beam paths share the same image and receive respective equal parts of the light intensity.(50/50 Distribution) This is great for live presentation.
Integrated Illumination

Choose and combine the integrated LED-lights for all purposes:
On top of classic transmission light, the adjustable spotlight can provide illumination in diagonal and quasi-vertical directions. Even dark field illumination is supported with the default stand: Just flip a small internal mirror.
High quality white LEDs create daylight relevant brightness for pristine, detailed and color-original images.