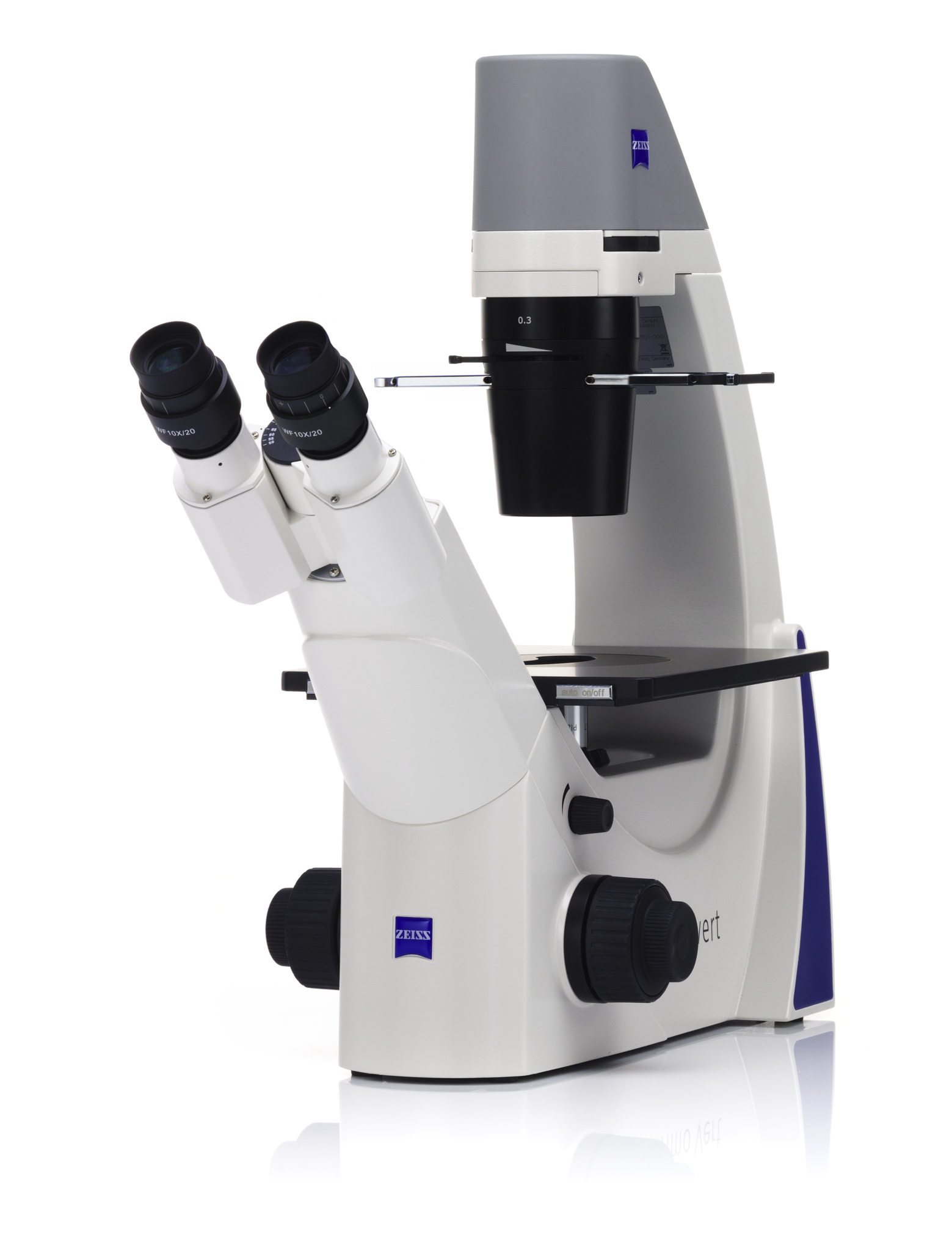 Your compact inverse routine microscope
Examine and assess your living cells - quickly and easily
Primovert is specially designed for the assessment of cell cultures. This inverted microscope combines efficiency with high optical performance. Primovert is compact and can be inserted directly into your cleanroom workbench.
Quickly and efficiently examine unstained cells in phase contrast and GFP-labeled cells in fluorescence contrast. The inverted microscope is perfect for cancer and genetic research.
With Primovert HDcam and the Labscope imaging app for iPad, you can observe and discuss cells with your colleagues outside of the sterile workplace. Divide work for the team with minimal risk to altering experiment conditions.
Allround Solution for Cell Laboratories
Enable Networking for the Entire Laboratory
Energy-Efficient


Primovert automatically enters Walk-Away-Mode after idleing for 15 minutes.

This saves energy and takes away strain from the light source.
You can react to important situations and leave the work space without worrying about your microscope lamps.
Your Allround-Solution for Cell Culture Laboratories

Primovert makes your daily work in the cell culture laboratory easier. By switching modes directly on the stand, you can easily access phase-contrast and fluorescence-contrast modi and evaluate both natural and labeled cells.
There are numerous frame options available for working with different media containers such as Petri dishes and well plates.
Flexible Integration


Primovert HD Cam is engineered for great flexibility. The integrated camera needs no additional adapters and saves time that would otherwise be spend fixing camera mounts and settings. For Primovert camera parameters are adjusted using your iPad and the included imaging App Labscope.
Save your images and edit them later, or send them to your team for discussion and further editing.
You could also record many slides and push analyis to a time when you are working from your home-office.
Phase Contrast Technique


Primovert uses a universal slider feautring ring-apertures Ph0, Ph1 and Ph2 for 10×, 20× and 40× Objektive-Lenses respectively.
There is no need to disassemble and change the beam path every time you change magnification. Just slide the slider to the required phase-contrast aperture to set your device up.
–Fast, immune to error and ergonomic.