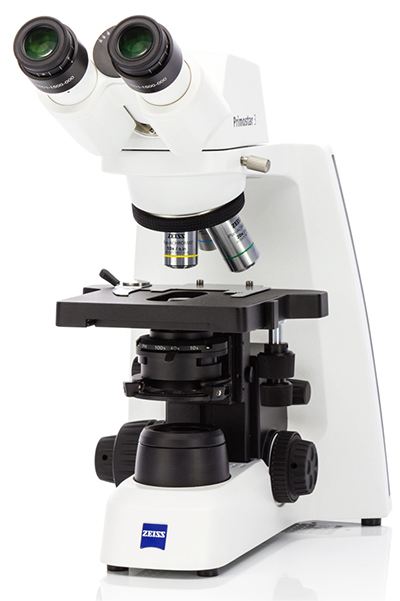 Compact and sturdy: The microscope for digital education and routine laboratory jobs.
The Primostar 3 is the perfect microscope for education and routine laboratory jobs: Easy to use, compact and long-lived – a good investment for saving space and obtaining long-term functionality.
Students, pupils, trainees or experienced laboratory professionals – everyone can start working straight away. Simply choose one of our pre-configurated packages suited for your job and application and start.
Each pre-configured microscope is instantly operational – true Plug-and-Play functionality.

The Primostar 3 is your reliable solution for anything microscopy. Now and in the future.
Choose your Primostar for your assignment
Supports ZEISS Digital Classroom implementation
Primostar 3 Fixed-Köhler for Education
Primostar 3 for Routine Laboratory Jobs
Choose Your Configuration


The Primostar 3 is available in different packages, starting with the educational basic microscope with Fixed-Köhler illumination and going into specific details such as with the specialized Full-Köhler configuration for histological assessments.


Digital Classroom
Share Snapshots or Live-Video via HD-Screen or Beamer with your class.
Organize and manage the digital classroom, consisting of interconnected microscopes.


Education & Teaching


Choose a long-lived, robust and user-friendly microscope. Teach and work with optimal conditions.


Routine Tasks


Choose from a variety of contrasting methods, objective lenses and use options for digital integration in your laboratory to make cooperation and documentation easy.
Downloads ⚠ Bilder Buttons überarbeiten 21.11.22 JS